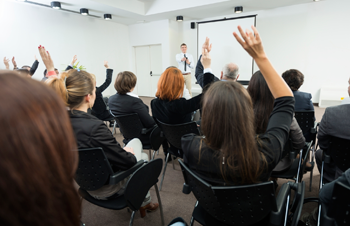 Enjoyable and Easy-To-Understand
All health and safety training is presented in an enjoyable and easy-to-understand format and is accompanied with hands-on exercises and quality course materials.
Our instructors are highly qualified with a combination of experience, education and professional certifications necessary to satisfy governmental agency trainer requirements.
We are committed to offering a broad range of quality health and safety training courses that are both affordable and enjoyable — just a few of the unique attributes that sets us apart from our competitors.
Emergency Preparedness
Emergency Response
RCRA – Hazardous Waste Management
ISO 14000
Environmental Regulations
DOT HAZMAT Transportation
General Awareness/Familiarization
Function Specific
Safety
Security Awareness
Initial and Refresher HAZWOPER
Confined Space Entry
Bloodborne Pathogens
Hearing Conservation
Hazard Communication
Respiratory Protection
Lead Exposure
Forklift Safety
Lockout/Tagout
Respiratory Protection
Personal Protective Equipment (PPE)
Accident Investigation
General Awareness/Familiarization
Train-the-Trainer
Employee Orientation
Supervisor/Foreman
Computer-based Training